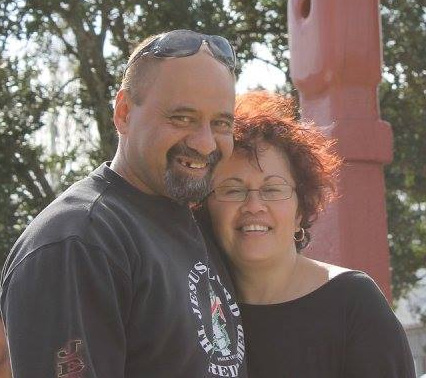 Feeding Rotorua Charitable Trust
Kia ora from Percy and Louisa.
We've had a heart for people as long as we can remember
In the beginning, before we became a Charitable Trust, and before the days of covid lockdowns, time and sacrifice were big factors in the making of Feeding Rotorua. Percy's dedication was beyond comprehension for the homeless people and their situations. He became a man with a single-minded mission to reach out and do what he can to give them back value and hope. Some churches, individuals and businesses who saw Percy's heart for the people offered their support. Feeding 7 nights a week was the new normal with food being served from pots in a buffet style service with deserts, cakes and doughnuts. Winter had them in brand new sleeping bags that was equipped to keep out the cold. As for clothing... at that time they were the best dressed streeties around. The people responded well to Percy and they have a connection with him that is built on respect and trust. We are thankful and grateful to our Lord Jesus and all our supporters for helping us get where we are today. May God continue to bless you all.

Who are we?
We are a Christian based Charitable Trust with people from diverse cultures, different backgrounds and life experiences who have a heart for the broken, the unloved and the hungry.

About us
Although we started off with feeding the homeless and the displaced people of Rotorua, we were not the only ones. Like other charities before us, we've realised that the never ending need will always be present. Our heart is to show God's love through action, not just words. Food is a predominant element and a necessity for everyday living. Without it... people go hungry, and hungry people do stupid things. We want to prevent a repetition of bad behaviour due to hunger and to help offer solutions for a better way of life.

Our vision
It's about giving hope and encouragement, connecting and improving the quality of life and restoring dignity and value back to the people.

Our Timeline
2022 Huge year for Feeding Rotorua. Partnering with MSD, BayTrust and Rotorua Trust we have been able to setup and facilitate a regional food distribution hub. We are now able to supply many of the awesome charities and groups who continue to work at lifting up our people. So inspiring when we can all work together with the common goals we all share. Another big shift has been partnering with Papatuanuku in their premises so our people can now sit down for a feed in comfortable surroundings.


2021 Had a roller coaster year. Way too much need in our community. It seems we moved from feeding the homeless to feeding the homes. Most of the homeless are now in emergency accomodation. They seem better off than many in houses, where households face huge increases in rental and other costs. Often over 200 hot meals going out a night. Lots of children. Huge thanks to Lotteries for a replacement truck. Finances and food are often stretched with the numbers needing help


2020 Covid-19 Lockdown.
Jump to feeding 150 per night.
Rotorua District Council stepped up to help financially which was awesome. Meant we needed to be more organised.. hence this website and registering as a charity. Also received much appreciated funding from RECT, Bay Trust and MSD + a number of individual supporters. So thankful.


2019 Said our prayers and carried on


2018 C3 church came on board helping out with one meal per week. What a blessing


2017 Feeding 25-50 people per night. Maori TV film crew came to visit.


2016 Said our prayers and got started Feeding Rotorua's displaced people

Trustees
Percy Poharama - Chairman
Aroha Clements - Secretary
Ian Barker - Treasurer
Louisa Poharama - Trustee
Campbell Harrison - Trustee
Jane Jennings - Trustee